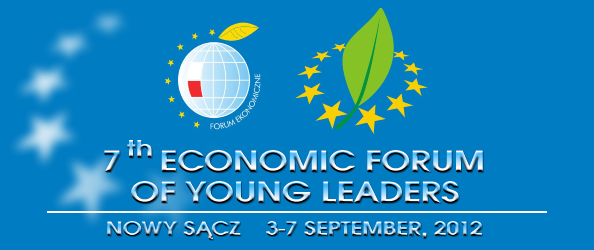 Invitation to the Forum 2012
Young leaders from all over the Europe meet in Poland to create ideas for the future of Europe. We warmly invite you to participate in the 7th Economic Forum of Young Leaders which will take place between 3rd and 7th of September 2012 in Nowy Sącz (near Kraków), Poland.
Each year, Forum engages over 250 young leaders of political, economic, social, and non-governmental organisations from the European Union, the Balkans, Eastern Europe and the Caucasus, from over 42 European countries, to come to Poland to Nowy Sącz.
The Economic Forum of Young Leaders in Nowy Sącz is a meeting of young elite from Europe and a venue for discussion about important processes in the world as well as challenges for young generations of politicians, economists and leaders of NGOs. Forum gives room for debate about the future of the European Union and its relation with neighbouring countries.
Participation in The Forum is possible after submitting application form and going through recruitment process. The submission deadline is 26th June 2012.

You can apply on-line to take part in the Forum 2012 here:
http://www.forum-leaders.eu/2012/application2012.php

Visit our web-site (www.forum-leaders.eu) to find out more information about the Forum.
Please disseminate the information about the Forum among your friends and institutions.
Warm greetings from Poland,
Forum's team Economic Forum of Young Leaders